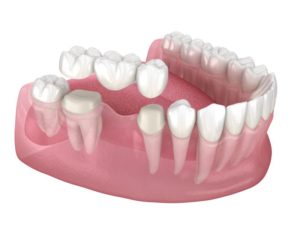 "The bridge is out! The bridge is out!" To many people, that is a quote by Arnold Schwarzenegger's character in the 1994 summer blockbuster True Lies. Well, at least action movie enthusiasts over age 40 will probably get the reference. If the bridge is out in your real life, however, you could be facing a dental emergency! A dental bridge connects to your natural teeth on both sides – filling in the gap with custom-fitted false teeth. They are strong, reliable, and look very natural in most cases. Keep reading to learn from your emergency dentist potential reasons why your dental bridge in Carrollton fell out, as well as how to respond.
Why Did Your Dental Bridge Fall Out?
Here are several of the most common reasons your bridge did not remain in place:
Tooth decay: It may have formed under or around the bridge. There is still quite a bit of exposed tooth surface even if you have a bridge, which allows bacteria, acid, and bits of food to get stuck. Your remaining natural teeth and your bridge need to be adequately cleaned every day.
Abutment teeth are too short, weak, or become damaged: The structure of your teeth could change after your bridge has been inserted into place. Maybe the abutment teeth do not have the strength to hold the bridge long-term, or perhaps they are too short to provide adequate support. One other possibility is that one of your abutment teeth could break.
Irregular bite pattern: Your dentist can adjust the bridge if it is out of place, so it is not stressed. If you feel abnormal pressure when chewing, you should see your emergency dentist in Carrollton. If the bridge is too high or too low, excessive pressure every time you chew can cause it to loosen.
What If You Are Ever in This Situation?
If your bridge falls out, call your dentist as soon as possible to get the first appointment available. You'll want to save the bridge so it can be repaired and reinserted, so put it in a zipper storage bag.
If the dentist can repair your bridge, they can bond it back into position. They will check the structure of your abutment teeth to make sure they aren't damaged. If they are damaged or you have cavities, your teeth will need to be repaired before the bridge is bonded again.
Once repairs are done to the bridge and/or your abutment teeth and the bridge is bonded back into position, you will be able to eat, chew, and enjoy life as usual! If your dentist deems your abutment teeth to be too unstable or weak to continue supporting your bridge, they will reevaluate your case and recommend another type of tooth replacement procedure.
It is important to understand why your dental bridge in Carrollton fell out and what you need to do if it happens, but the most important thing to remember is to call your dentist as soon as possible.
About the Author
Dr. Anthony Dillard earned his dental doctorate from Texas A&M. With more than a decade of experience, he has extensively studied Invisalign, BOTOX and dermal fillers, airway health solutions, and more. If you are missing teeth, he offers dental bridges, dental implants, and full-mouth reconstruction. Schedule a consultation on his website or call (972) 394-1492.