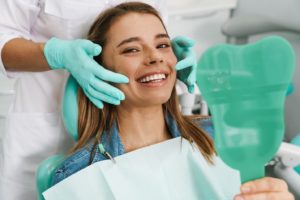 It's estimated that the demand for cosmetic dentistry in the US has doubled within the last five years, meaning that more patients than ever before are opting to enhance their pearly whites and obtain the smile of their dreams! And one popular way that people are doing this is with the help of veneers—but can this incredible solution cause your teeth to feel sensitive? Here's what you need to know about veneers in Carrollton and some tips for managing the sensitivity that sometimes results from them.
Can Veneers Cause Tooth Sensitivity?
Simply put, it is possible to experience some tooth sensitivity due to veneers, but it isn't a great amount by any means. In order to make room for your veneers, your dentist will need to remove a very tiny amount of enamel from the front of the teeth that are being treated. This amount is usually only around half a millimeter, but by doing this, your dentist is ensuring that the veneers will look natural and blend seamlessly with your smile.
However, this is also what usually causes a little bit of sensitivity in some patients. But in spite of this, the treatment is actually quite effective at preventing future sensitivity since the veneers also offer minimal protection for your teeth. Once they've been placed, they are essentially shielding your weakened enamel from things that cause discomfort like extremely hot or cold temperatures.
Tips for Managing Tooth Sensitivity
Many patients experience mild sensitivity for a few days or weeks after receiving veneers, but if this persists for months, it might be a sign of an underlying issue. But if you've just gotten veneers and are dealing with mild discomfort, here are some tips to help:
Mind your diet – Certain foods, including very hot or cold items, can naturally increase the amount of sensitivity you experience.
Rinse your mouth – Gently rinsing your mouth with a warm saltwater mixture (8 ounces of water and half a teaspoon of salt) can help to decrease sensitivity, reduce any inflammation, and improve the pH levels inside your mouth.
Take over-the-counter pain relievers – Taking OTC pain medications like Tylenol or Ibuprofen as needed can also help to alleviate some minor soreness.
Have patience – It might take some time for you to fully adjust to your new veneers, so don't feel defeated if the first few days are uncomfortable.
It's worth noting that if you're already missing too much enamel, you might not be an ideal candidate for veneers—only your dentist will be able to determine your eligibility. That said, veneers in Carrollton are arguably one of the best cosmetic treatment solutions available, and the minimal amount of sensitivity that can accompany them is a small price to pay for the upgrade they provide!
About the Author
Dr. Anthony Dillard has proudly served patients and families in the Carrollton, TX area for several years. Dr. Dillard received his DDS from the Baylor College of Dentistry and has taken countless hours of continuing education in a wide range of fields. His practice is thrilled to offer several types of cosmetic dental services including veneers. If you have any questions about veneers or would like to arrange a visit, feel free to contact the practice online or by phone for assistance: (972) 394-1492.