Dental Implants – Carrollton, TX
Tooth Replacement
Like No Other
Are you looking for replacement teeth that look and feel exactly like the ones you were born with? If so, then dental implants from our Carrollton, TX dentist are the perfect solution! Unlike other tooth replacements, dental implants recreate every part of a missing tooth, allowing you to enjoy a confident new smile and the ability to eat your favorite foods easily. At Anthony Dillard, DDS Family & Cosmetic Dentistry, we can complete every step of the dental implant process under one roof by having local specialists come into our dental office. To take the first step toward a new and improved smile, call us to schedule your dental implant consultation!
Why Choose Anthony Dillard, DDS Family & Cosmetic Dentistry for Dental Implants?
Start-to-Finish Dental Implant Treatment Under One Roof
Goop-Free, Ultraprecise Digital Dental Impression Technology
Fair Prices & Affordable Dental Financing Available
What Are Dental Implants?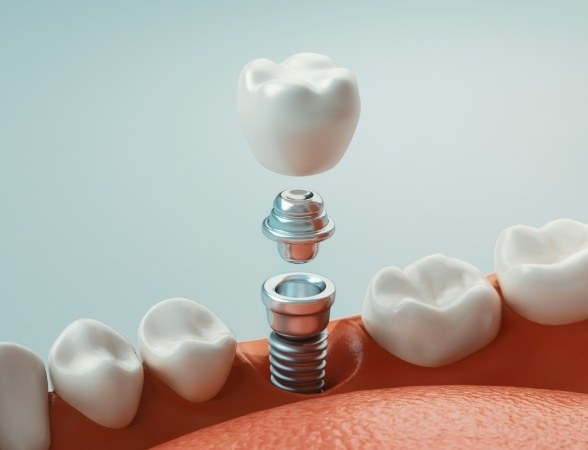 Other tooth replacements merely sit on top of the gums or remaining teeth, but dental implants take it a step beyond that. The implant itself is a tiny cylindrical post that replaces the roots of missing teeth by being surgically inserted into the jawbone. Because dental implants are made from biocompatible materials like titanium and zirconia, the jawbone grows around them, so they can support a custom crown or bridge for decades, if not for a lifetime.
The 4-Step Dental Implant Process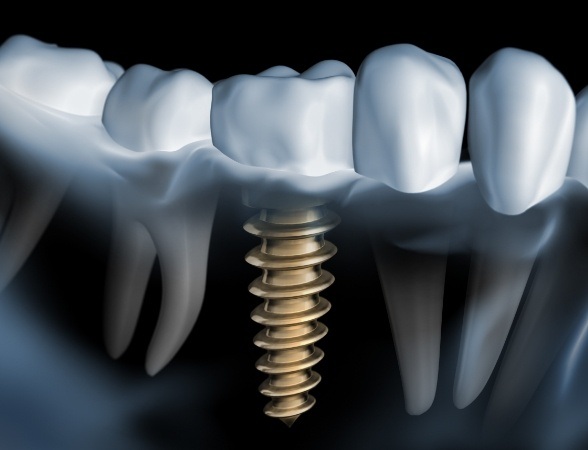 Dental implants are considered the gold standard of tooth replacement for good reason. Even though the process takes several months to complete, patients find the incredible benefits well worth the time and effort. At the office of Dr. Anthony Dillard, we're proud to offer this top-tier treatment to you. While every patient's treatment plan will look slightly different, there are four main steps that you can expect regarding dental implants in Carrollton.
Initial Dental Implant Consultation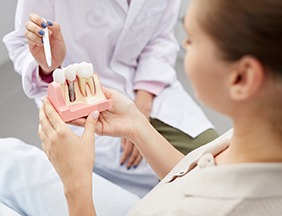 The first step on your journey toward a complete and fully functioning smile is a consultation with our dentist. During this appointment, he will conduct an oral examination, review your dental health and medical history, ask about your goals to determine whether this treatment is right for you, and make sure you understand how dental implants work in Carrollton. Based on the findings, he may need to perform some preliminary procedures (gum disease therapy, tooth extractions, bone grafting) to prepare your mouth.
Dental Implant Surgery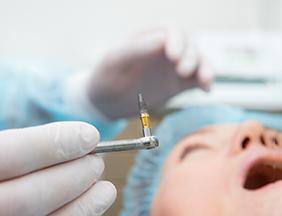 Dr. Dillard is partnered with experienced local implant specialists to ensure a top-notch result for your smile. In preparation for implant placement, the area will be numbed to ensure you're completely comfortable during the procedure. Then, small incisions are made in the gums, the implants are inserted at precise angles and locations in the jawbone, and then your gums are sutured shut. Afterward, a protective cap is placed over each post to keep your mouth safe.
Dental Implant Osseointegration & Abutment Placement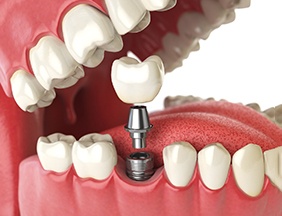 After approximately 3-6 months, the dental implant will integrate with your jawbone via a natural process called osseointegration. Once that step is complete, you'll return for a second smaller surgery to place abutments on top of the posts. While you heal, your final restorations will be crafted using impressions taken of your mouth.
Delivery of Dental Implant Restorations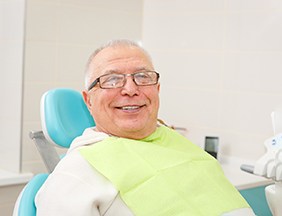 A trusted dental laboratory will prepare each dental implant restoration to fit perfectly inside your mouth. When it's ready, we'll call you back to the office and attach your crown, bridge, or denture to your abutments. Your implant dentist in Carrollton will make any final adjustments to ensure your new smile is exactly what you wanted. You'll be ready to enjoy your rebuilt grin that same day!
Benefits of Dental Implants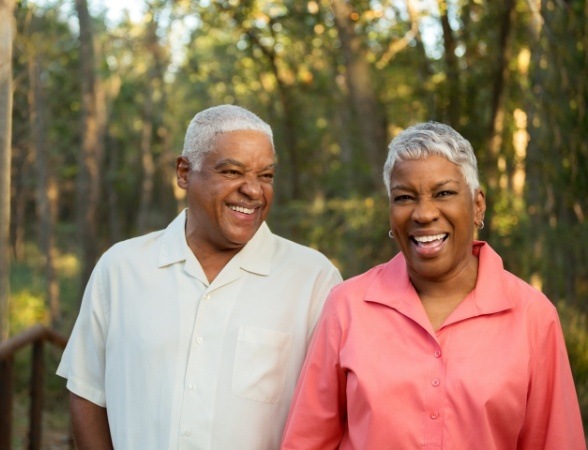 Ultimately, dental implants are highly effective as replacement teeth. It's even to the point that dentists place over 500,00 of them yearly! As for why they work so well, it's all thanks to the implants' unique placement in the jawbone. Their integration with your mouth means they have many benefits not found in dentures or bridges. If that latter fact interests you, our team will happily tell you more. All you need to do is continue reading or call us today.
Day-to-Day Benefits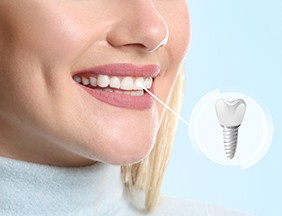 Implants' day-to-day benefits are the ones that attract the most attention. Not long after placement, you'll likely notice the following perks:
A Gorgeous Grin – Implants rely on dental-grade porcelain, blending seamlessly with your surrounding teeth. Treatment's final results, in other words, are highly lifelike; most people won't even see the difference between your implant(s) and regular teeth.
More Confidence – Since implants "fill in" unsightly smile gaps, they help you feel less anxious in social settings. From there, you'll be more confident around friends, family, and others.
Better Chewing – Because implants fuse with your jaw, they actually strengthen your bite's force. That new strength, in turn, lets you eat your favorite foods again!
Easier Oral Care – Implant care doesn't require special tools or methods. Instead, you can maintain them as you would natural teeth. In particular, just brush them twice daily, floss them once daily, and rinse them with mouthwash.
Health Benefits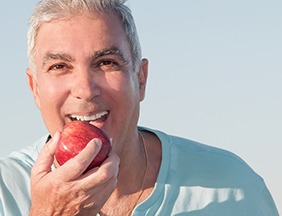 Aside from everyday living, implants also benefit your health. More specifically, they aid your body's physical functions. You'll thus experience:
Improved Nutrition – By strengthening your jaw, implants expand your food options. That means you're more likely to eat healthy and nutritious meals. As a result, your body will get the vitamins and minerals it needs to thrive.
A Healthier Jawbone – Without a full smile, your jaw will degrade from lack of stimulation. That erosion could then trigger facial collapse. Fortunately, though, implants can prevent and even reverse this bone loss.
A Less-Irritated Mouth – Dentures and bridges sometimes cause tooth sensitivity and gum sores due to how they fit. However, dental implants don't rub your gums or surrounding teeth. As such, they won't trouble you by irritating your mouth tissues.
Long-term Benefits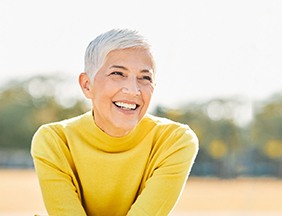 Perhaps more than anything else, implants' long-term benefits make them an excellent treatment. These advantages, as listed below, are:
Low Chance of Failure – So long as they're well-placed, implants usually succeed in the long run. Even ten years after initial placement, their success rate is over 95%!
Little-to-No Replacement – The average implant's lifespan is roughly 15-20 years. If well-maintained, the prosthetic can even last for over 30 years. In either case, the odds are you won't need many follow-up visits. Your implants, then, may just last a lifetime.
Save Money – Compared to dentures or bridges, implants save you a lot of money. Their long lifespan (see above) means they don't incur many repair or replacement fees. Meanwhile, the other two restorations only last 5-7 years and involve regular (and costly) repairs.
Who Dental Implants Can Help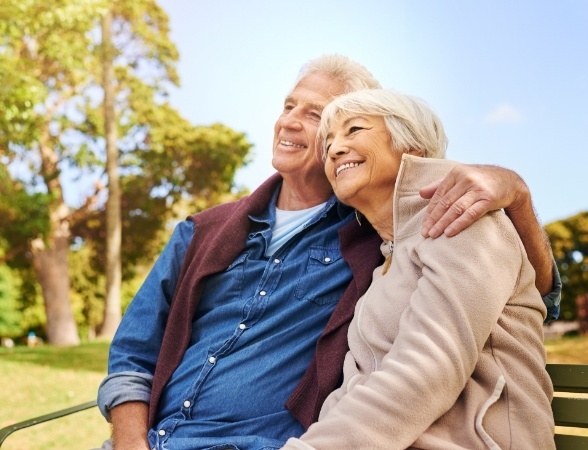 Have you lost one or more teeth? Are you an adult who is in generally good health? Do you have a strong jawbone? If so, there's a good chance that dental implants can help you! You might require preliminary procedures, such as bone grafting or gum disease therapy, but the majority of healthy adults who wish to replace missing teeth can do so with dental implants.
Missing One Tooth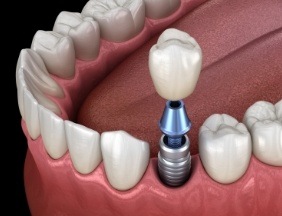 After the specialist has vertically inserted a single implant into the empty space left behind by one missing tooth, Dr. Dillard can restore it with a personalized dental crown. This solution seamlessly blends in with your smile without altering your natural teeth like a conventional dental bridge would.
Missing Multiple Teeth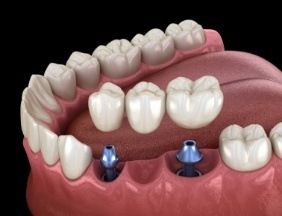 If you're missing multiple teeth in a row, our team can place one implant at each end of the gap. These implants can support a custom dental bridge, which stays in place without relying on your remaining teeth. For several missing teeth that are not consecutive, a small number of implant posts can secure a partial denture.
Missing All Teeth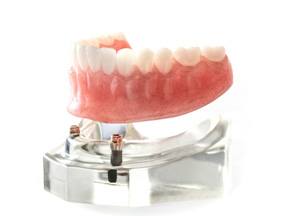 An implant denture offers a relatively efficient way to bring back an entire row of teeth, only requiring four to six implants to support a full denture. These dentures are not only more stable than traditional ones, but they also prevent the bone loss that usually occurs after tooth loss. This keeps the jaw strong, helps a patient maintain a more youthful appearance, and reduces the need for denture maintenance over the years.
Learn More About Implant Dentures
Understanding the Cost of Dental Implants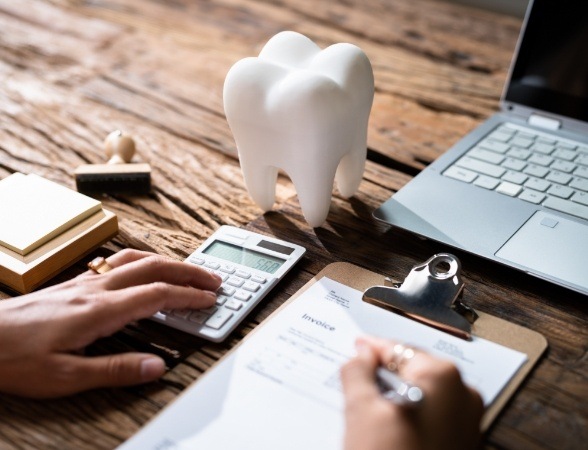 Determining how much dental implants cost isn't as cut-and-dry as it may seem. We have to consider several variables, such as the number of teeth you're replacing and what kind of restoration you'll need. Our team will always be transparent about your dental implant costs and help you navigate your payment options. We offer low- to no-interest financing through CareCredit that can make your new teeth affordable. Keep in mind that since dental implants can last a lifetime, you'll likely end up saving money in the long run than you would with traditional tooth replacements.
Dental Implant FAQs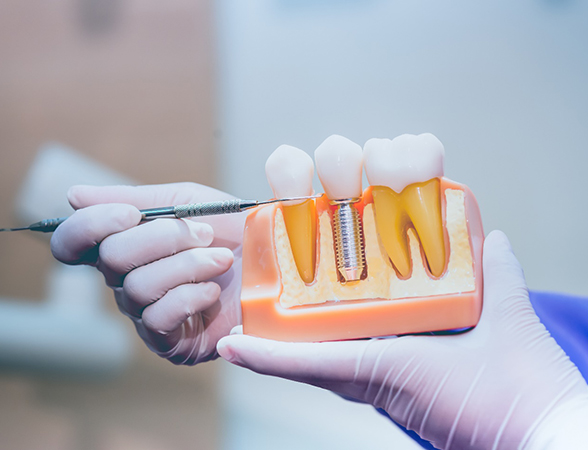 Dental implants are one of the most thoroughly hyped-up methods of tooth replacement. Given all the talk surrounding them, you might wonder how much of what you hear is true, and whether these kinds of tooth replacement are as good as they're made out to be.
If you have questions about this kind of treatment, you're not alone at all. In fact, here are answers to some of the most common ones that we get.
Does Getting Dental Implants Hurt?
If you're concerned about pain associated with the dental implant procedure, you'll be happy to learn that your mouth will be numbed completely with a local anesthetic before beginning the procedure. Moreover, the jawbone doesn't have all that many nerve endings in the first place, meaning that there isn't anything to worry about in terms of discomfort during the surgery.
Afterward, the dental implant may be a little bit tender for a few days. You should take either prescribed or over-the-counter pain medicine as directed, and make use of a cold compress when necessary. If pain doesn't start to improve after a few days, give us a call—there may be an issue.
Am I Too Old to Get Dental Implants?
One of the nice things about dental implants is that the surgery itself isn't all that intense. As a result, the procedure is safe for just about anyone, regardless of age.
The more important factor is your existing oral health. If your jaw is in bad shape, you'll have a much harder time healing after the dental implant surgery. As a consequence, we'll need to review your medical history extensively before the treatment begins.
How Long Does It Take to Recover from Dental Implant Surgery?
Tenderness aside, you should be able to return to normal life as soon as the next day after surgery. Any bleeding or swelling should stop completely within a few days.
However, it is recommended that you avoid vigorous exercise for at least a week after the surgery. An increase in blood flow may reopen wounds, so you should take it easy for a few days at least. Remember to take any prescribed pain medication as directed to ease any discomfort.
Will People Be Able to Tell That I Have Dental Implants?
In crafting your dental implants, we will take sophisticated impressions of your teeth will be used to model your final implant. This, coupled with the fact that your dental implant will be implanted deep into your jaw means that people won't be able to easily tell that you have had dental work done.
Dental implants also fit very naturally in your mouth, meaning that you don't have to worry about holding your jaw in a strange way.