Dental Implants – Carrollton, TX
Tooth Replacement
Like No Other
Are you looking for replacement teeth that look and feel exactly like the ones you were born with? If so, then dental implants from our Carrollton, TX dentist are the perfect solution! Unlike other tooth replacements, dental implants recreate every part of a missing tooth, allowing you to enjoy a confident new smile and the ability to eat your favorite foods easily. At Anthony Dillard, DDS Family & Cosmetic Dentistry, we can complete every step of the dental implant process under one roof by having local specialists come into our dental office. To take the first step toward a new and improved smile, call us to schedule your dental implant consultation!
Why Choose Anthony Dillard, DDS Family & Cosmetic Dentistry for Dental Implants?
Start-to-Finish Dental Implant Treatment Under One Roof
Goop-Free, Ultraprecise Digital Dental Impression Technology
Fair Prices & Affordable Dental Financing Available
What Are Dental Implants?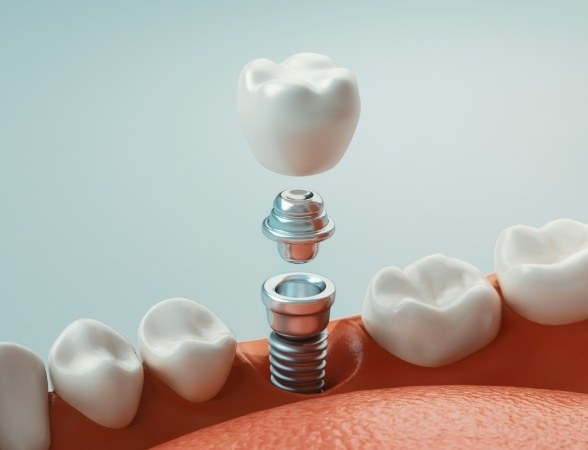 Other tooth replacements merely sit on top of the gums or remaining teeth, but dental implants take it a step beyond that. The implant itself is a tiny cylindrical post that replaces the roots of missing teeth by being surgically inserted into the jawbone. Because dental implants are made from biocompatible materials like titanium and zirconia, the jawbone grows around them, so they can support a custom crown or bridge for decades, if not for a lifetime.
The 4-Step Dental Implant Process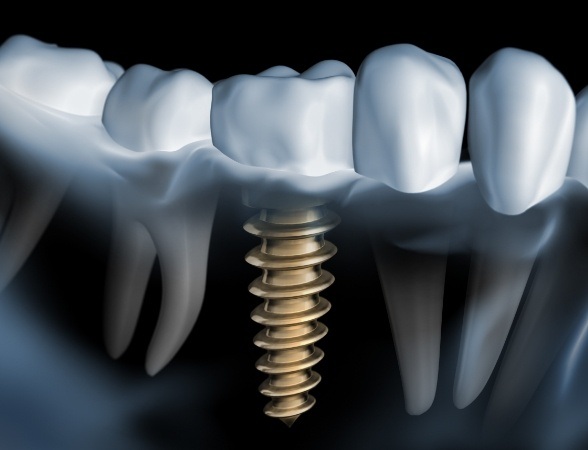 Consultation – First, Dr. Dillard will take the time to understand your goals for your future smile and evaluate your mouth to find out if dental implants are right for you.
Surgery – An experienced specialist will make tiny incisions in your gums and surgically position the implant posts into your jawbone.
Osseointegration – Over the next three to six months, the implants will merge with your jawbone in a natural process called osseointegration.
Restoration – Finally, Dr. Dillard will attach your lifelike dental crown or bridge on top of your implants.
Benefits of Dental Implants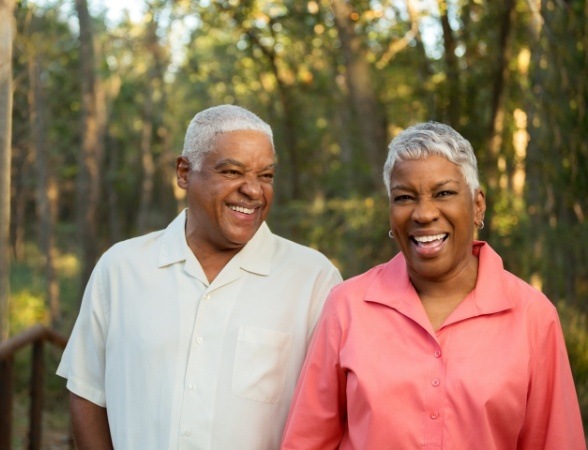 Because they recreate the entire tooth top to bottom, dental implants are truly a tooth replacement like no other. Therefore, they're almost indistinguishable from your home-grown pearly whites. Their unique benefits include:
Allowing you to eat crunchy and chewy foods easily
Stimulating the jawbone to prevent it from breaking down
Staying in place without the risk of slipping or falling out
Looking and feeling completely natural
Being able to last for 30+ years on average
Who Dental Implants Can Help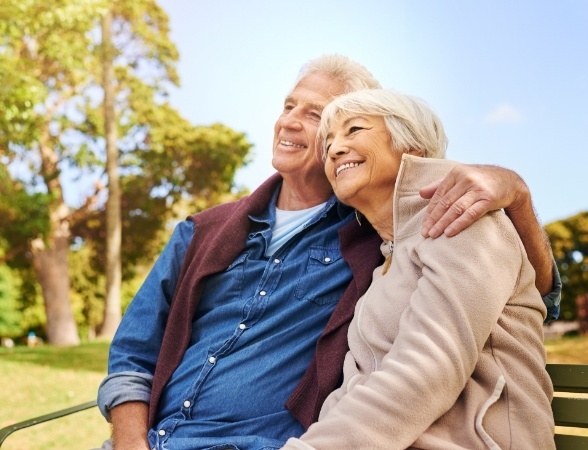 Have you lost one or more teeth? Are you an adult who is in generally good health? Do you have a strong jawbone? If so, there's a good chance that dental implants can help you! You might require preliminary procedures, such as bone grafting or gum disease therapy, but the majority of healthy adults who wish to replace missing teeth can do so with dental implants.
Missing One Tooth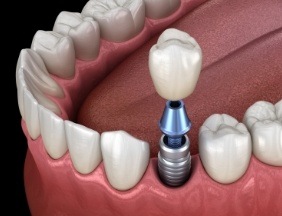 After the specialist has vertically inserted a single implant into the empty space left behind by one missing tooth, Dr. Dillard can restore it with a personalized dental crown. This solution seamlessly blends in with your smile without altering your natural teeth like a conventional dental bridge would.
Missing Multiple Teeth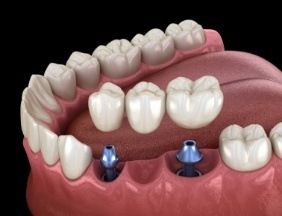 If you're missing multiple teeth in a row, our team can place one implant at each end of the gap. These implants can support a custom dental bridge, which stays in place without relying on your remaining teeth. For several missing teeth that are not consecutive, a small number of implant posts can secure a partial denture.
Understanding the Cost of Dental Implants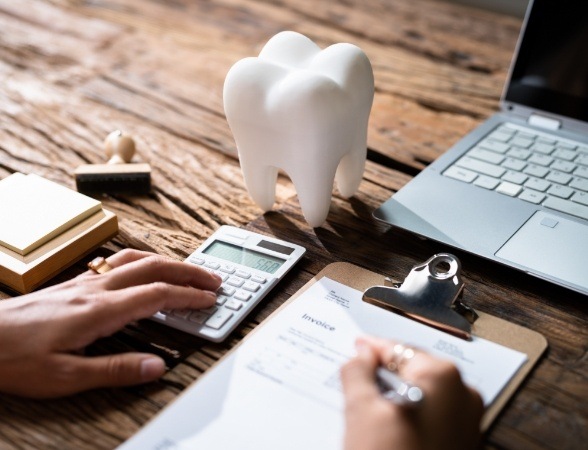 Determining how much dental implants cost isn't as cut-and-dry as it may seem. We have to consider several variables, such as the number of teeth you're replacing and what kind of restoration you'll need. Our team will always be transparent about your dental implant costs and help you navigate your payment options. We offer low- to no-interest financing through CareCredit that can make your new teeth affordable. Keep in mind that since dental implants can last a lifetime, you'll likely end up saving money in the long run than you would with traditional tooth replacements.